Nature is an endless source of fascination to me. I grew up in the countryside and I've always loved being outside, feeling a connection to the Earth. I love a far-reaching expansive view. I love the detail and patterns found in nature. When I create artwork of places I focus on the feelings evoked by being in those places.
Roseberry Topping is a beautiful and distinctive hill in North Yorkshire. This painting was inspired by a magical day my brother and father spent in the Yorkshire countryside over Christmas, when the snow was high and the landscape was a winter wonderland.
Acrylic painting on stretched canvas
700mm x 1000mm
Giclee prints available from £30 P&P £7.50
I love this place, just along the road from Brighton in West Sussex. Chantonbury is a prehistoric hill fort, steeped in folklore and legend. It has a magical, magnetic quality that makes me return time and time again. This amazing tree overlooks the north side and is where I have sat on many occasions. I wanted to capture the ethereal, divine nature of this place so chose a night-time view where we can gaze up at the stars and see the limitlessness of the universe.
Oil on stretched canvas
500mm x 700mm
Original is available unframed for £400 plus P&P at cost.
Giclee prints are available from £30 plus P&P at 7.50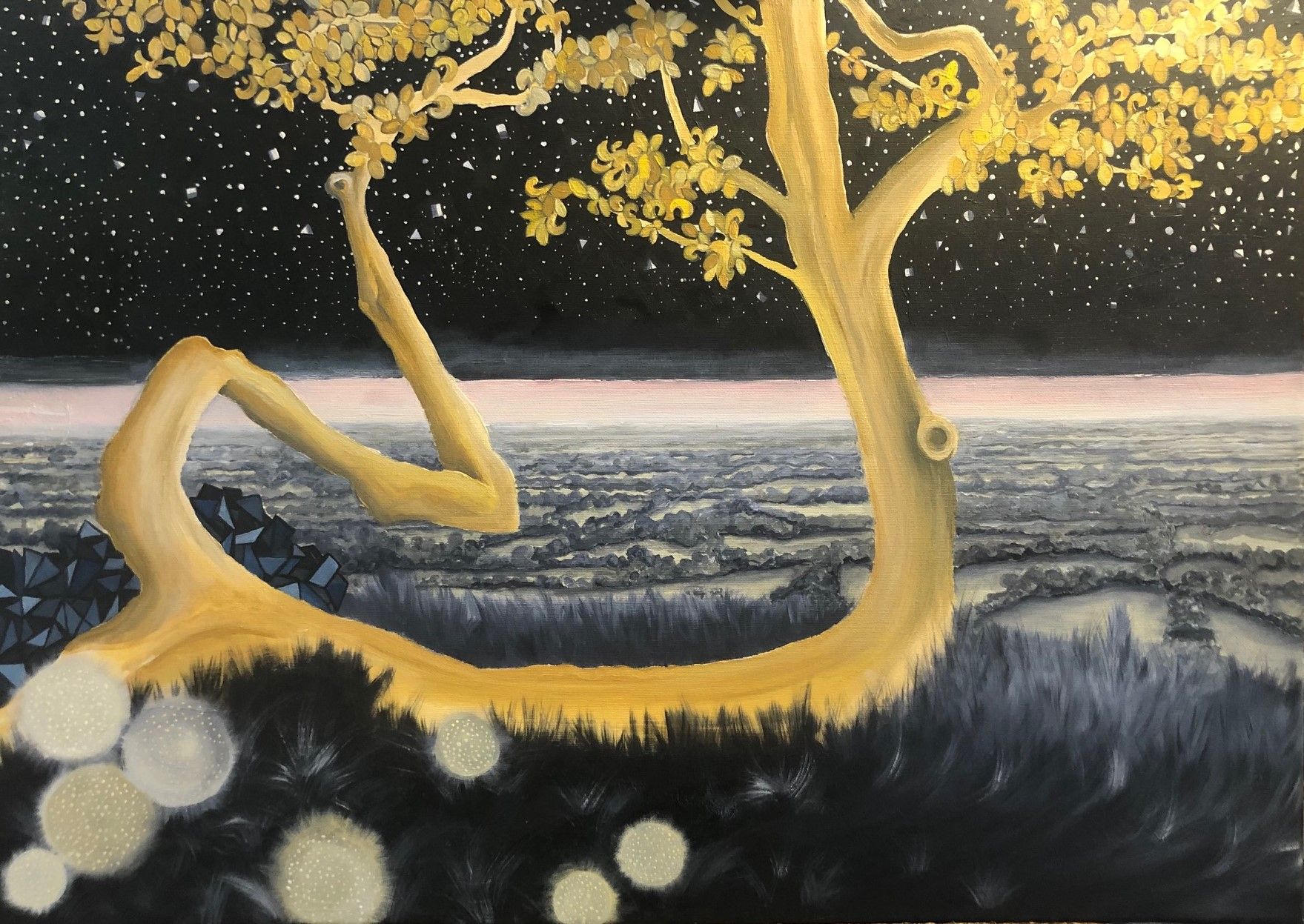 This painting is inspired by memories of northern winters.
I painted this in acrylics, layer after layer, it was a big messy piece that i thoroughly enjoyed painting. Losing myself in memories of winters up north, blizzards and snow drifts. Expansive views and wonderful sunsets. I like the semi abstract nature of this piece, the way the focus is on colours, textures and patterns.
Acrylic painting on stretched canvas
700mm x 1000mm
Giclee prints are available from £30 plus P&P at 7.50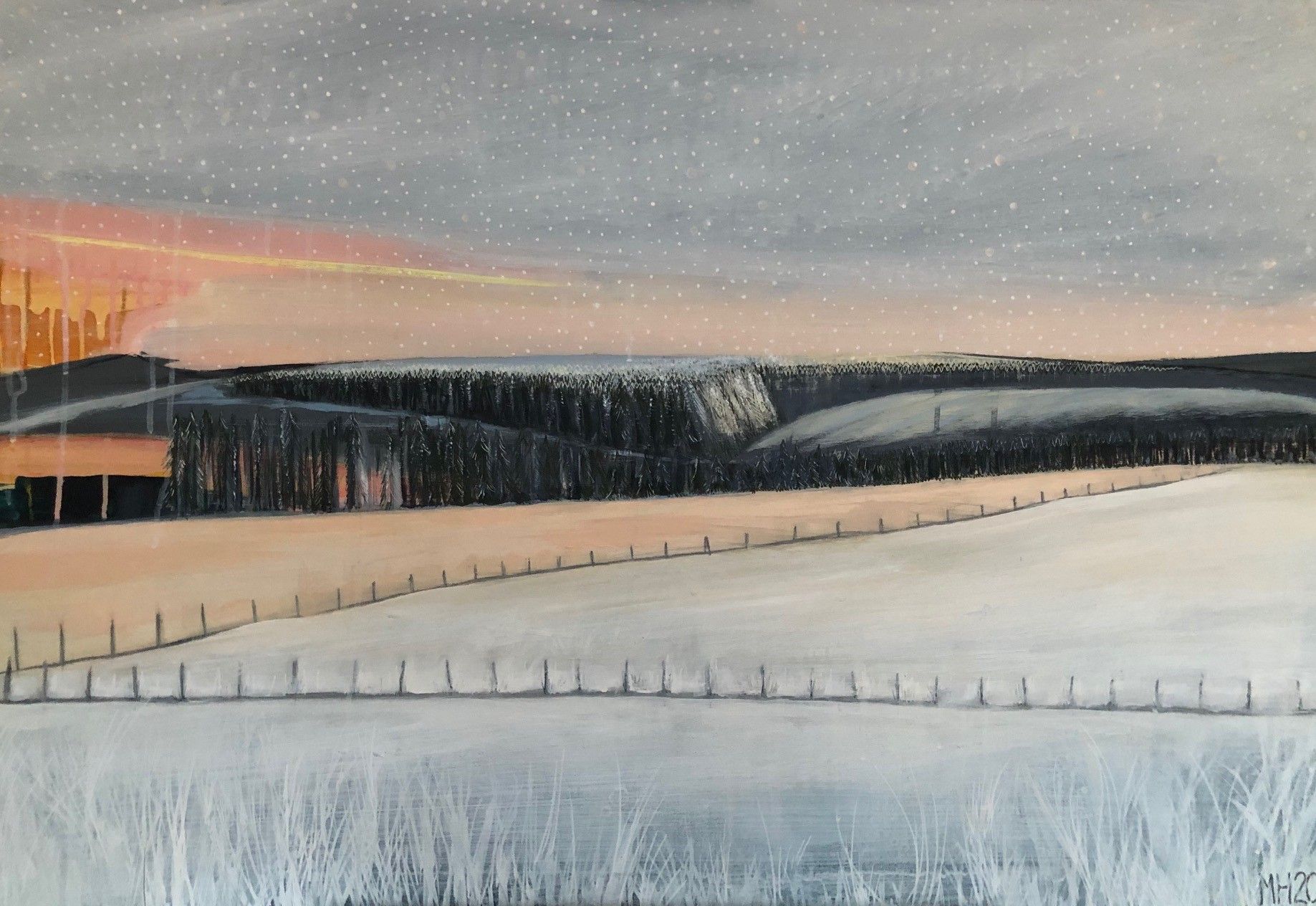 This painting is inspired by some wonderful winter walks in Ditchling a small village on the north side of the South Downs.
The trees are bare, the sunsets are deep and low over the downs and mud is everywhere. I got lost in painting this, it was such a joy to be back in the deep dark countryside.
Acrylic painting on stretched canvas
500mm x 700mm
The original is for sale £400 plus P&P at cost
Giclee prints available from £30 P&P £7.50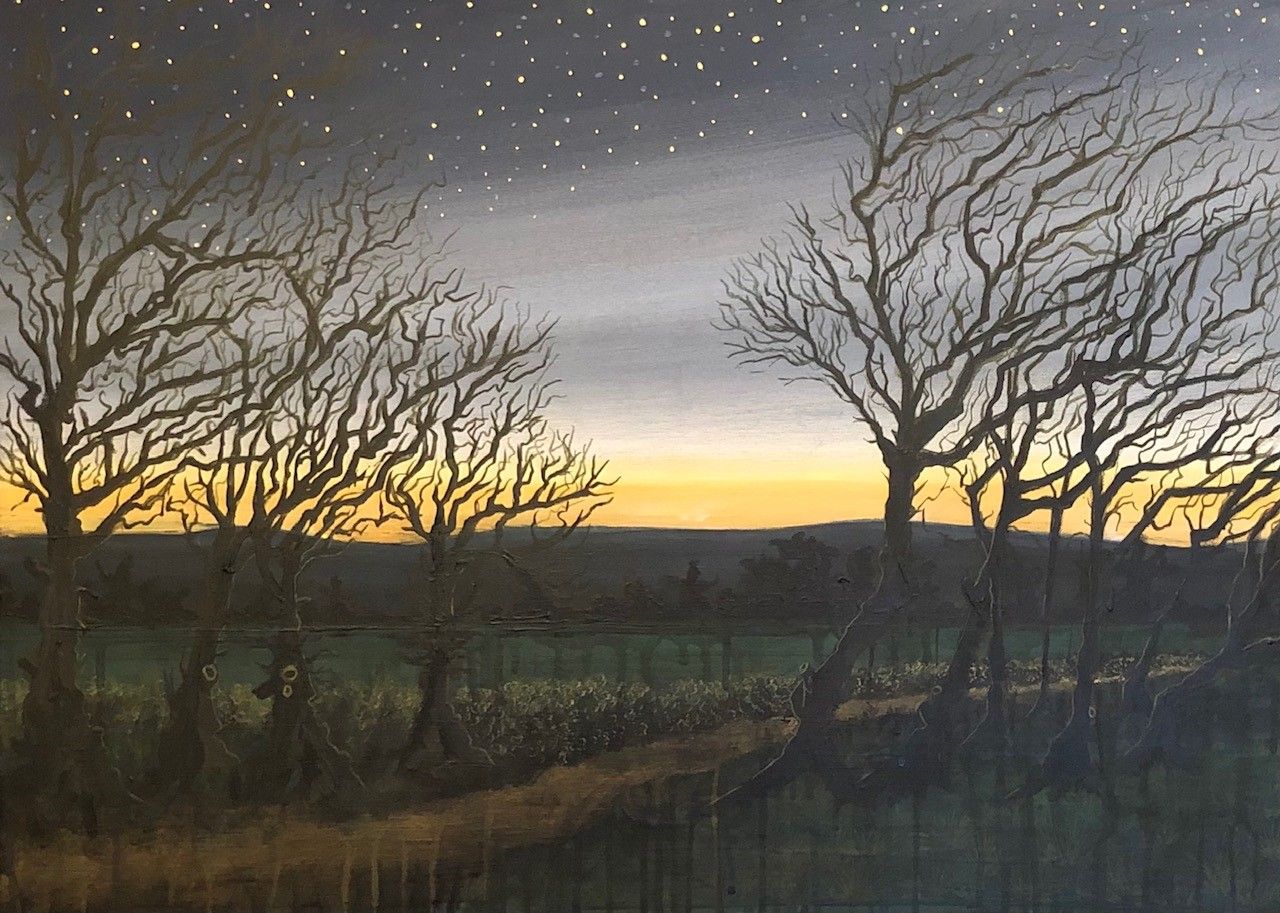 I was commissioned to create a painting of a special view from Ovingdean towards the sea. This was part of a familiar walk that had become part of the 2020 lockdown experience. I was given a photograph and a palette to work from. A palette carefully chosen to compliment the interior décor in the lounge where this painting was to be hung.
I ran free with my imagination, simplifying the forms and using the colour palette to create an exciting and inviting space that you can dive into. I wanted to keep a sense of the walk and the journey towards the sea so made a clear path in which to wander through to the expanse of the infinite white sea.
Oil on stretched canvas
700mm x 1000mm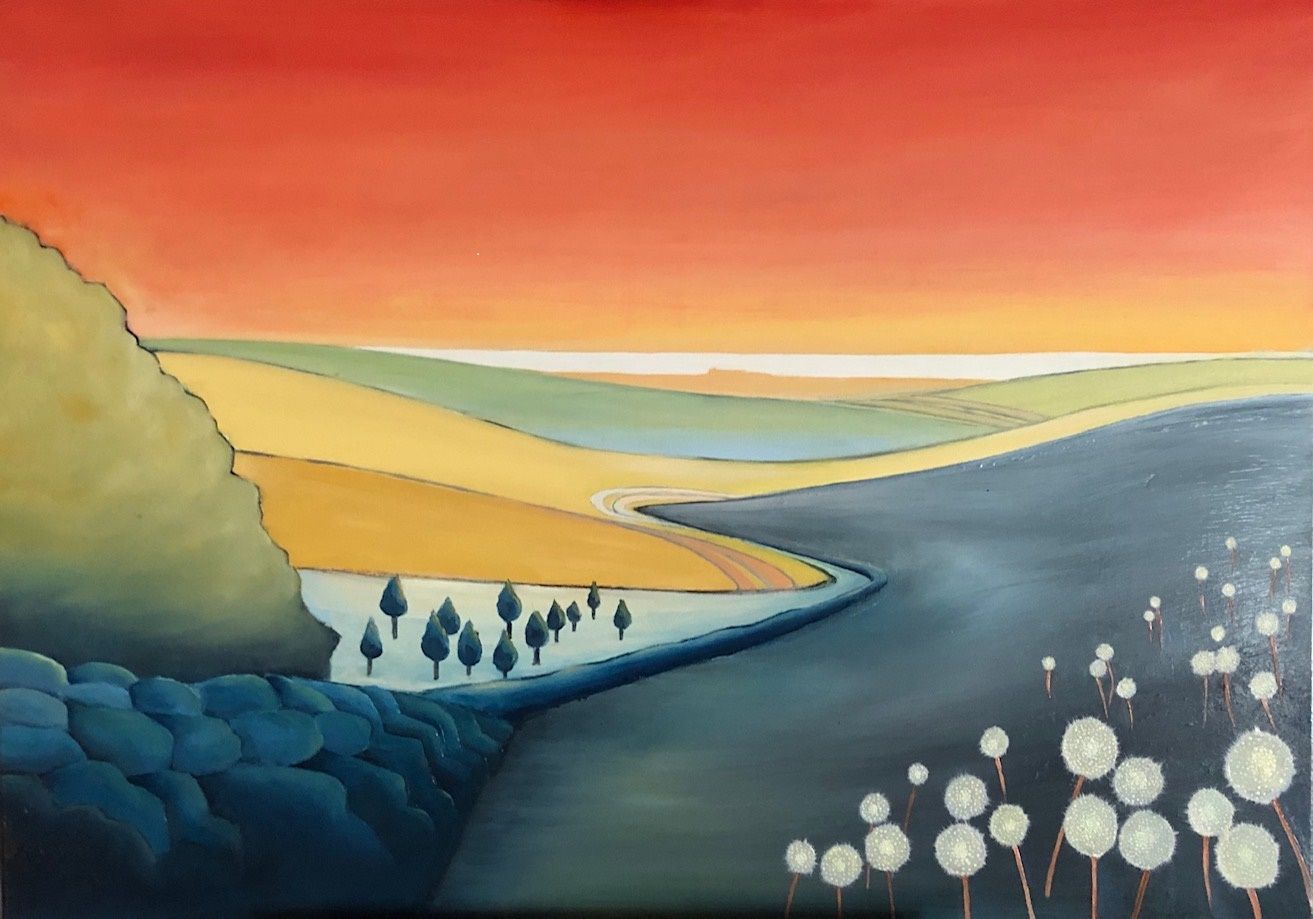 I was commissioned to paint the Rome Forum from a photo taken on a magical night. This is a complex view and it felt quite a daunting task to convey the majestic strength and grandeur of the architecture while keeping this as light and dreamy as the magical night suggests.
Working on smooth gessoboard I used oils, thinned down to create light washes and fine detail. I simplified shapes and tried as far as possible to keep a delicacy and lightness by keeping the details loose and the colours light and gentle.
Oil on gessoboard
400mm x 300mm artwork
I painted this in 2009 when I was pregnant with my first child. It was after a trip to the Isle of Wight, I was inspired by the patchwork of fields and the gentle rolling hills. As part of the nesting urge I'd redecorated our bedroom in a lichen green and bought some Orla Keily bed linen. Both of these things further influenced this painting.
Oil on stretched canvas
800mm x 600mm
Giclee prints are available from £30 plus £7.50 P&P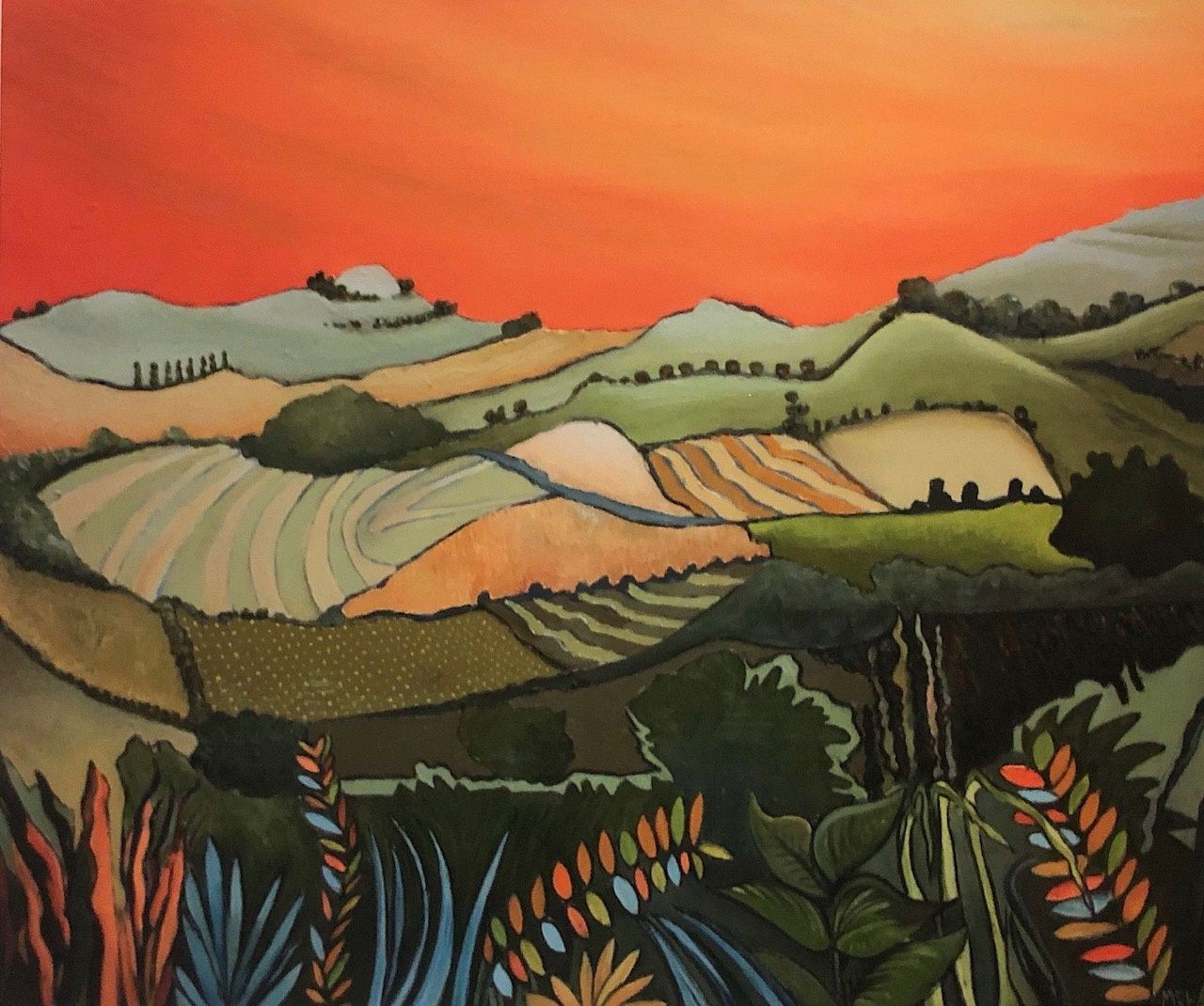 This is a view from a memorable day with my big sister when we met in Cocking, a small village in the West Sussex countryside.
The palette is inspired by the front cover of a Vogue magazine. I love the way they use colours, often with a surprising twist. I painted this quickly from a small photo and my memory.
Oil on stretched canvas
500mm x 500mm.
The original is available for £300 plus P&P at cost
Giclee prints available from £30 plus P&P £7.50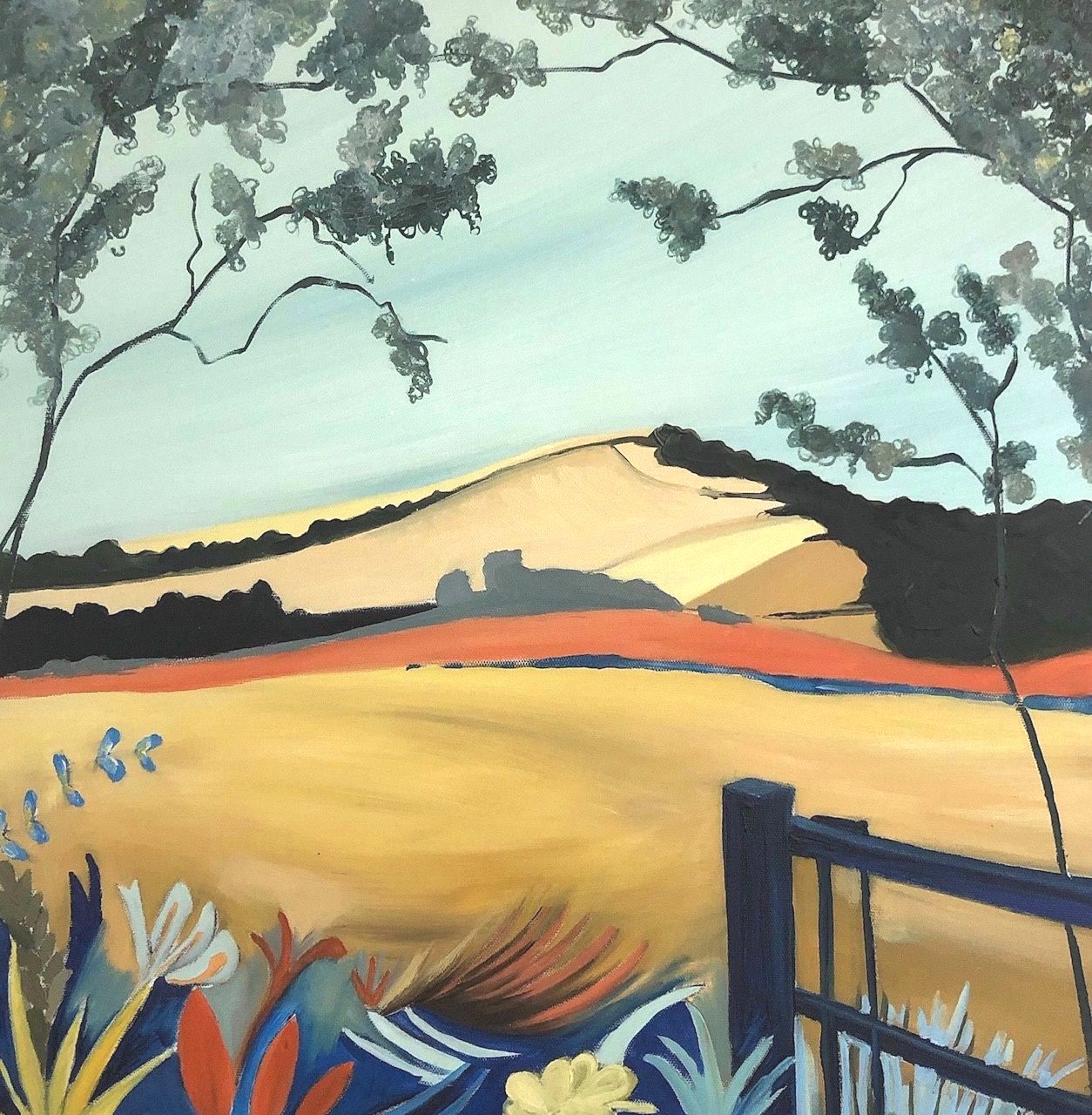 I was commissioned to paint 4 scenes based on special places and memories of Sardinia. It was a real pleasure to create artwork that was so personal and meaningful.
I worked collaberatively with my client, building in several review stages to make sure the pictures were just right.
The Beach - was the first one I worked on. The juniper trees which are so typical of the Sardinian beaches were an important feature, as was the fantastic light.
The Olive Grove – I love the perspective in this one, the wonderful bright sunlight and dramatic shadows cast by the trees.
The Church - I love this view, peeping through the town hall doors. The original photo was taken at midday but to work as part of the complete set of paintings we decided to change the light to an evening sunset.
The Fireplace – This is a typical Sardinian fireplace. A cosy corner in the family home. I was intrigued by how much characters and personality this had. It was like painting a portrait, I felt I got to know the owner of the home through their choice of ornaments and furnishings.
I worked on the paintings over a 5 week period.
Oil on stretched canvas
All 300mm x 400mm