My paintings are expressive, bold and magical. I make paintings you can dive into and escape. Places where you can dream, people you can connect with.
I love being in nature. The abundance and chaos, the colours, textures, shapes and patterns. I'm excited by the transitions of day to night and night to day, the rise and fall of the sun and moon, the rhythm of the seasons.
In creative mode, I imagine and remember. Memories and dreams come to my mind and this is what I paint.
Meditation
Eyes shut and enjoying a moment of relaxation, meditating in a safe place. Sun on her shoulders, cats at her feet.

Acrylic paint on 50x50cm birch panel with cradled edge, ready to hang.
£300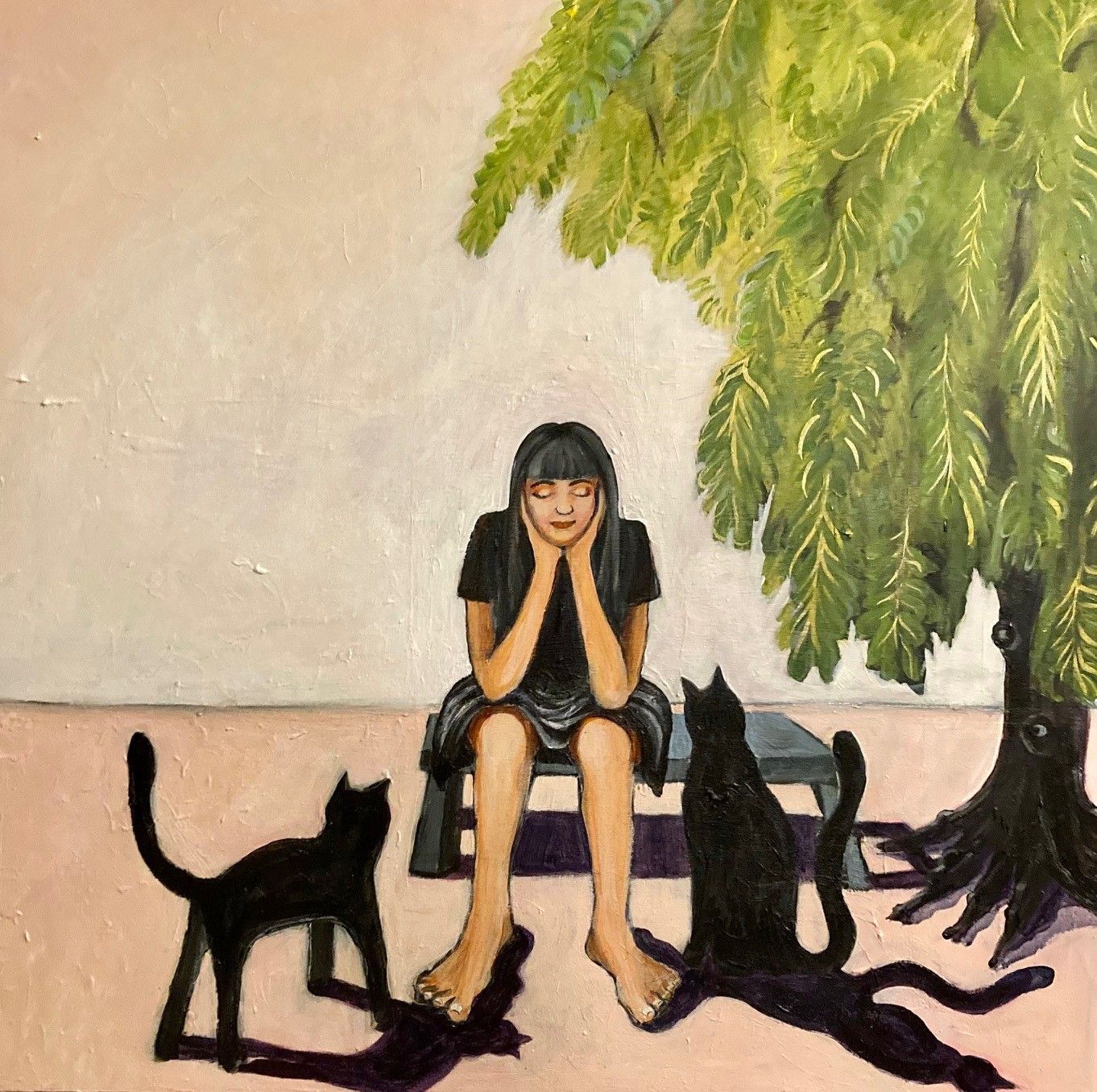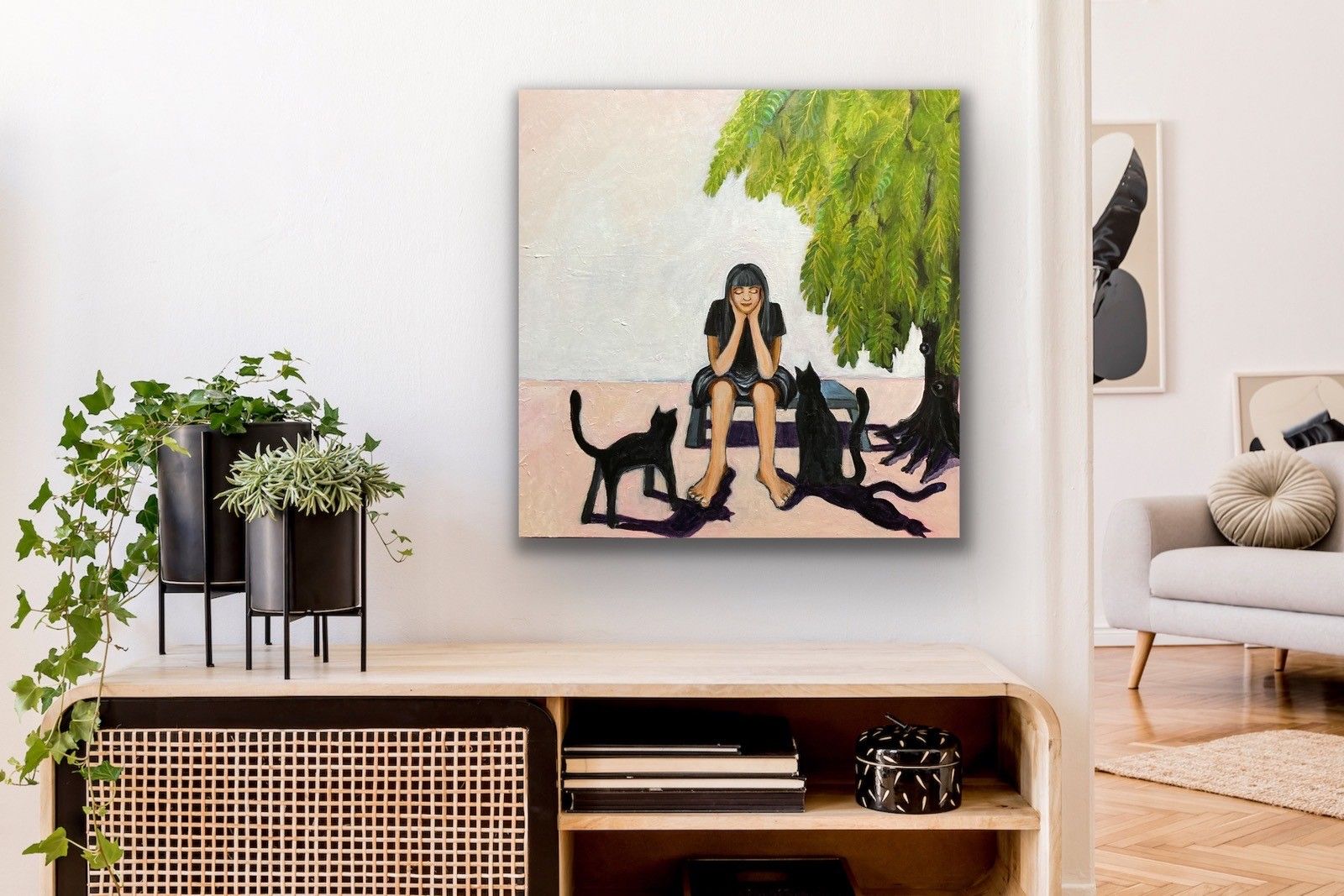 Mother
Mother - Universal and iconic. This is a celebration of all mothers. The concept of mother as far as mother earth and as close as our own individual experience. This is high contrast, showing strength and vulnerability, depth and texture.
Acylic paint and mediums on stretched box canvas 91cm x 91 cm
£700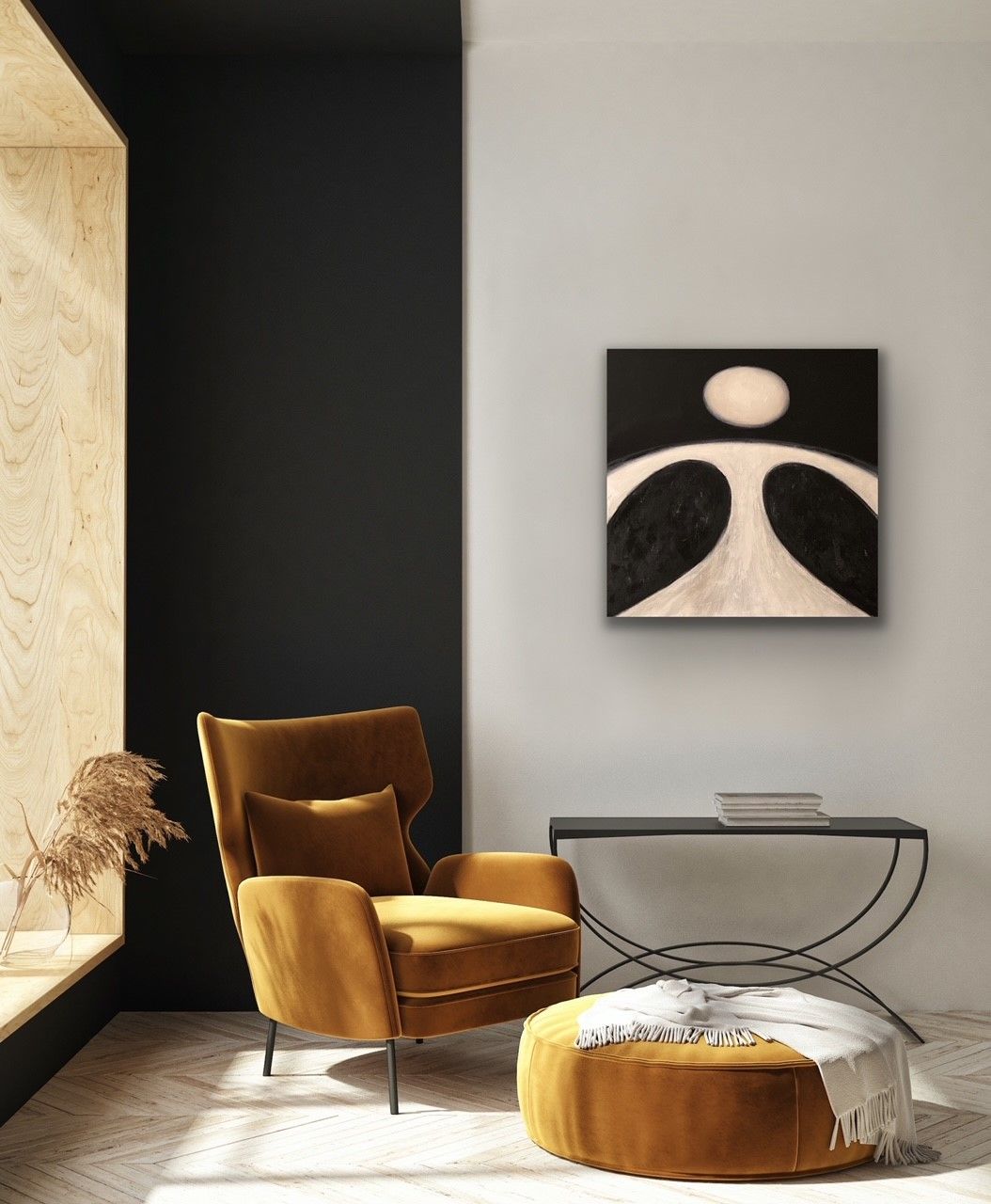 Woman with Yellow Jumper and Cat

Contemplative and relaxed is the mood of this painting. The woman is with her cat, deep in thought. This is a safe space. A space to dream in this calm and familiar setting.
30 x 40cm Acrylic paint, glazes and collage on paper
£150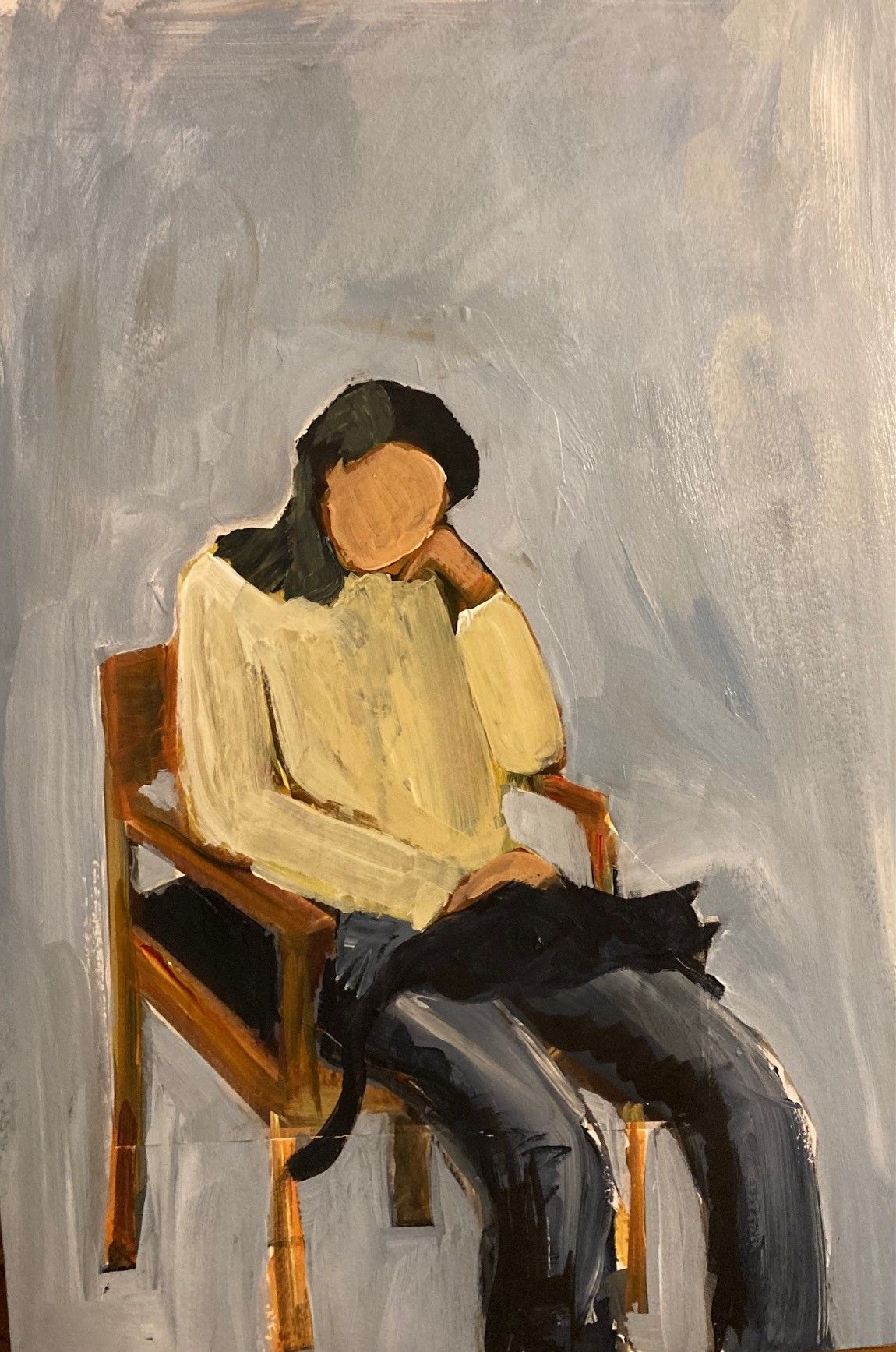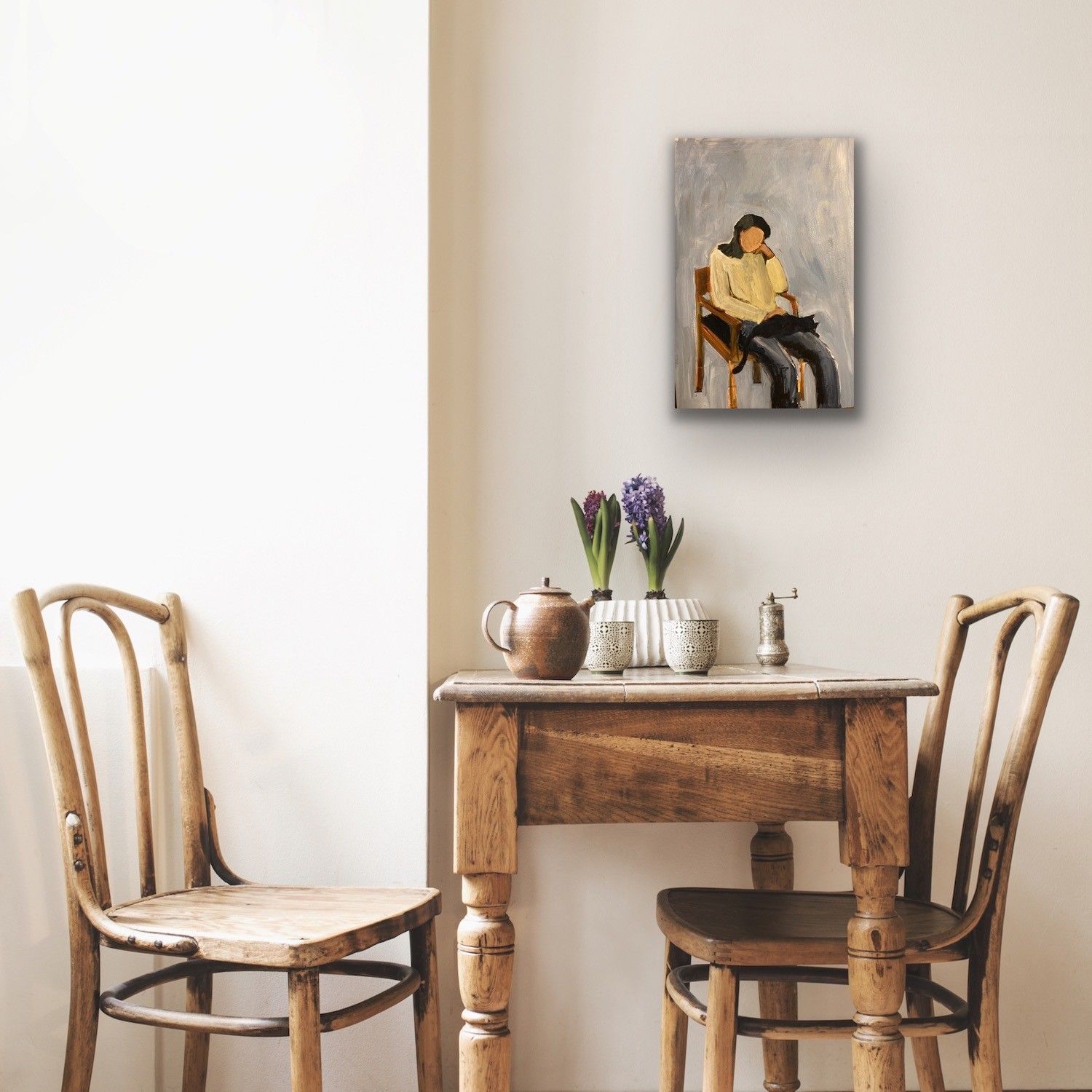 Nude With Cat
A moment in time, a woman with her cat. A safe nurturing space where there is peace and comfort. The magical black cat offers friendship and creates an external counterbalance to the female inner psyche. This painting is a meditation in pink.
30 x 40cm Acrylic paint, glazes and collage on paper
£150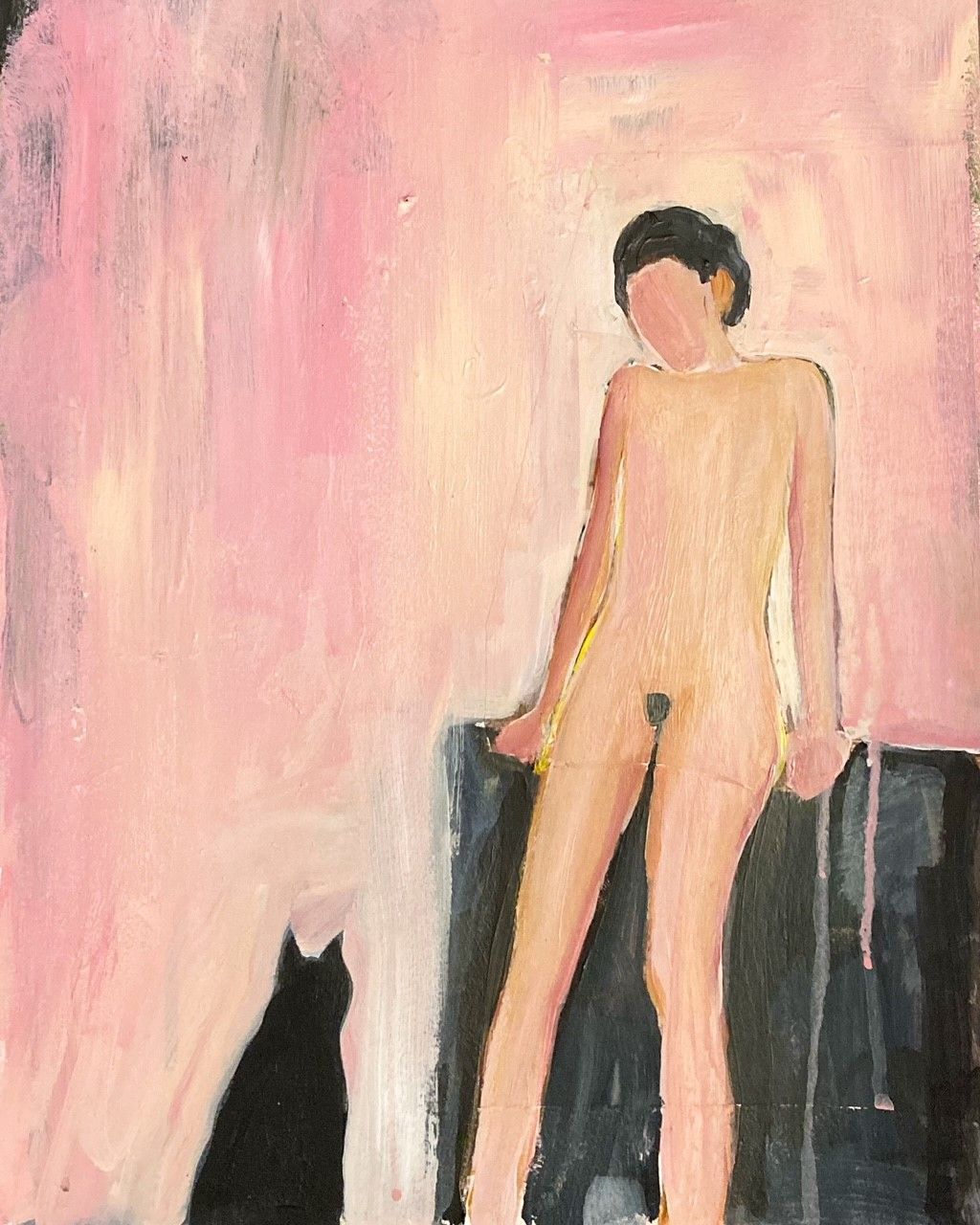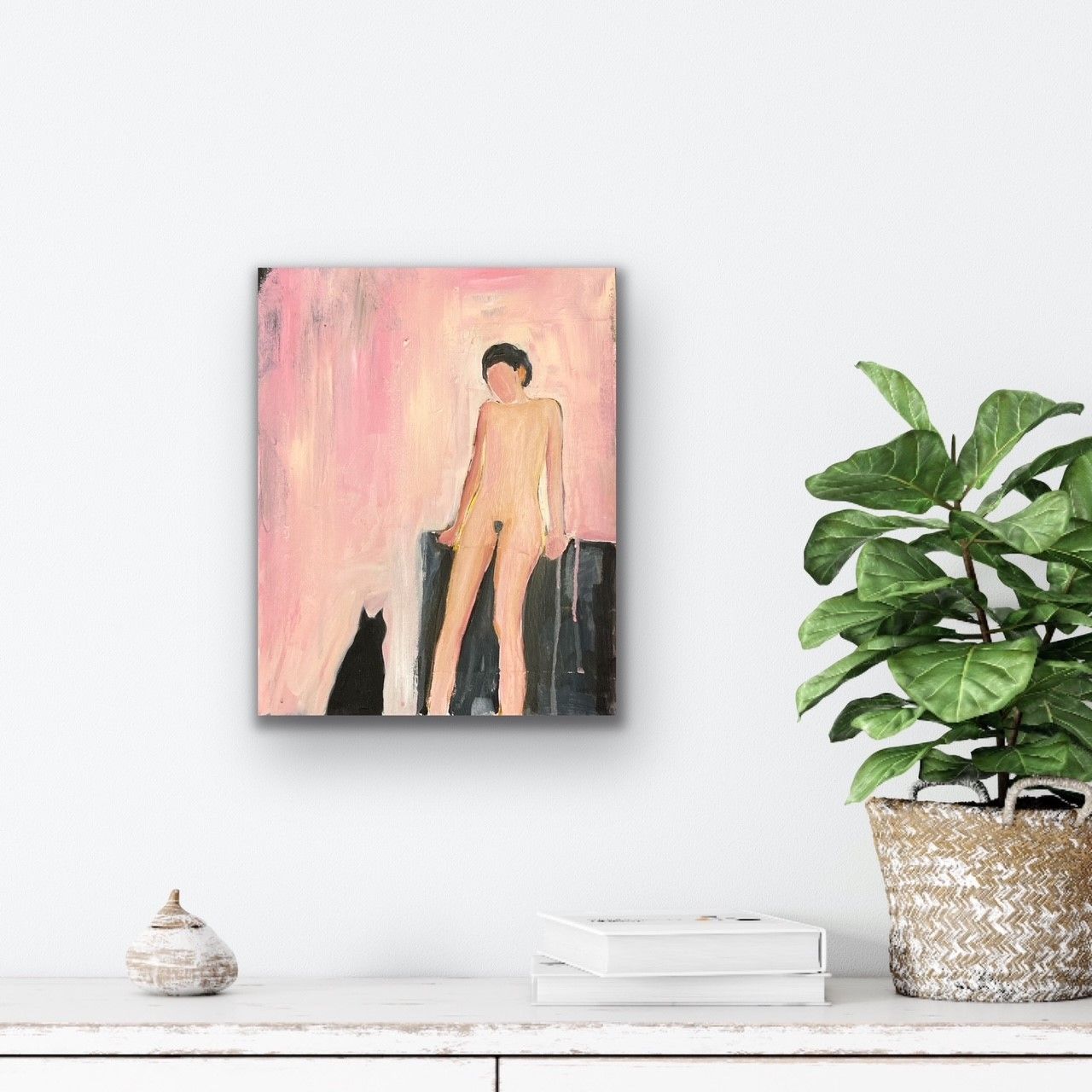 September, the air changes, the light is different. Autumn is here. I loved the golden pink sunsets and revelled in the dark silhouettes. The drama of this light gives everything a magical feel.
As we prepare for the dark nights, getting ready to hunker down there was one last burst of the summer. Now it's time to enter the deep dark enchanted woods of autumn.
Take a trip around this landscape here
Acrylic on stretched canvas - 1000mm x 700mm
£550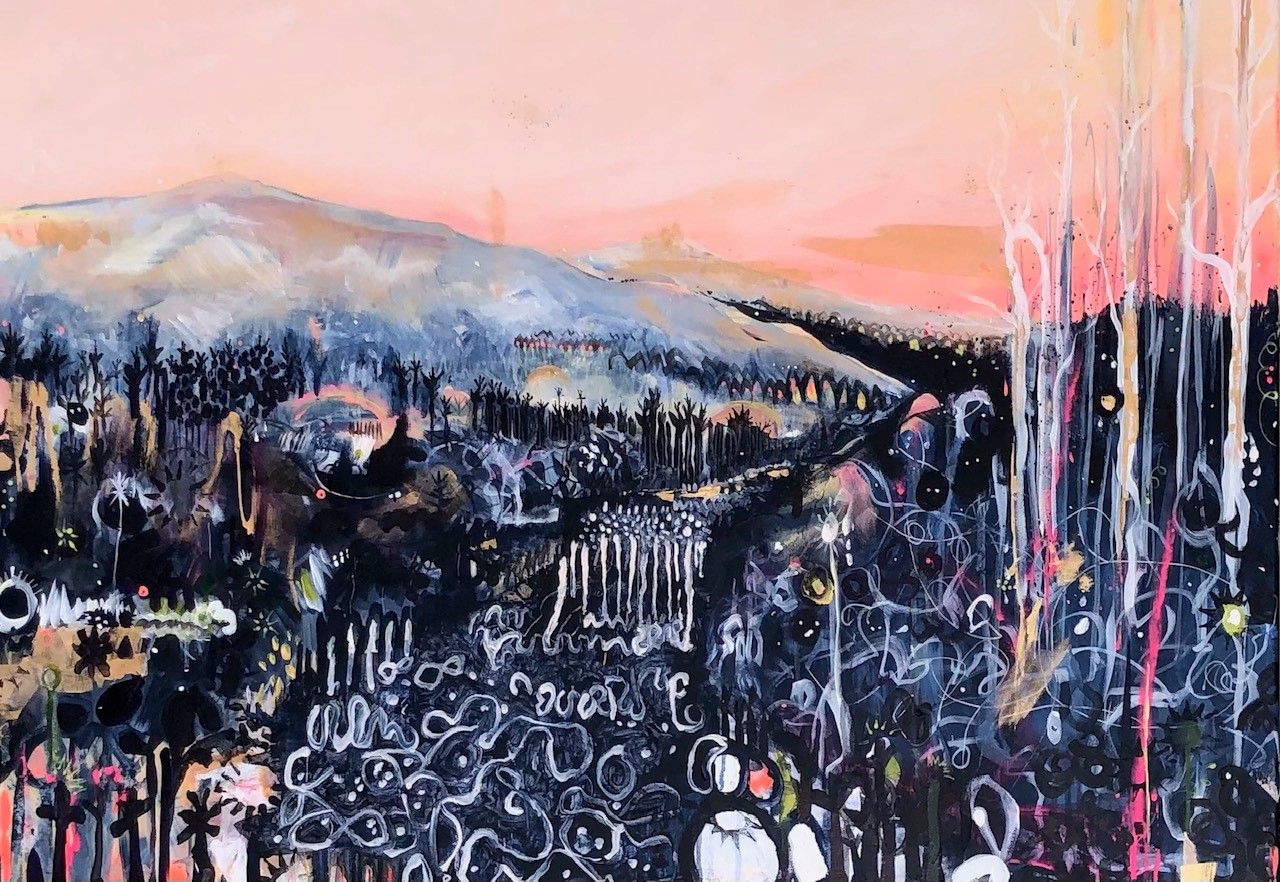 Finally, after a long harsh winter and a lockdown, I felt the warmth of the sun, A glimpse of hope and joy. It's early in the summer season. It's fresh and new and clean and spacious. I made this painting as a response to April. It flowed quickly and freely. Almost to easily, it was magical.
I love the breezy simplicity; it makes me feel calm. I love the soft curves the warm embrace of blue sky and hug of the clouds. The yellow curve so joyful. The dark purple shapes representing emerging flowers or the shadows of all the friends and family I am missing so much.
Here is a video of the glazing stages of this painting, watch it here
Acrylic on stretched canvas - 1000mm x 700mm
£550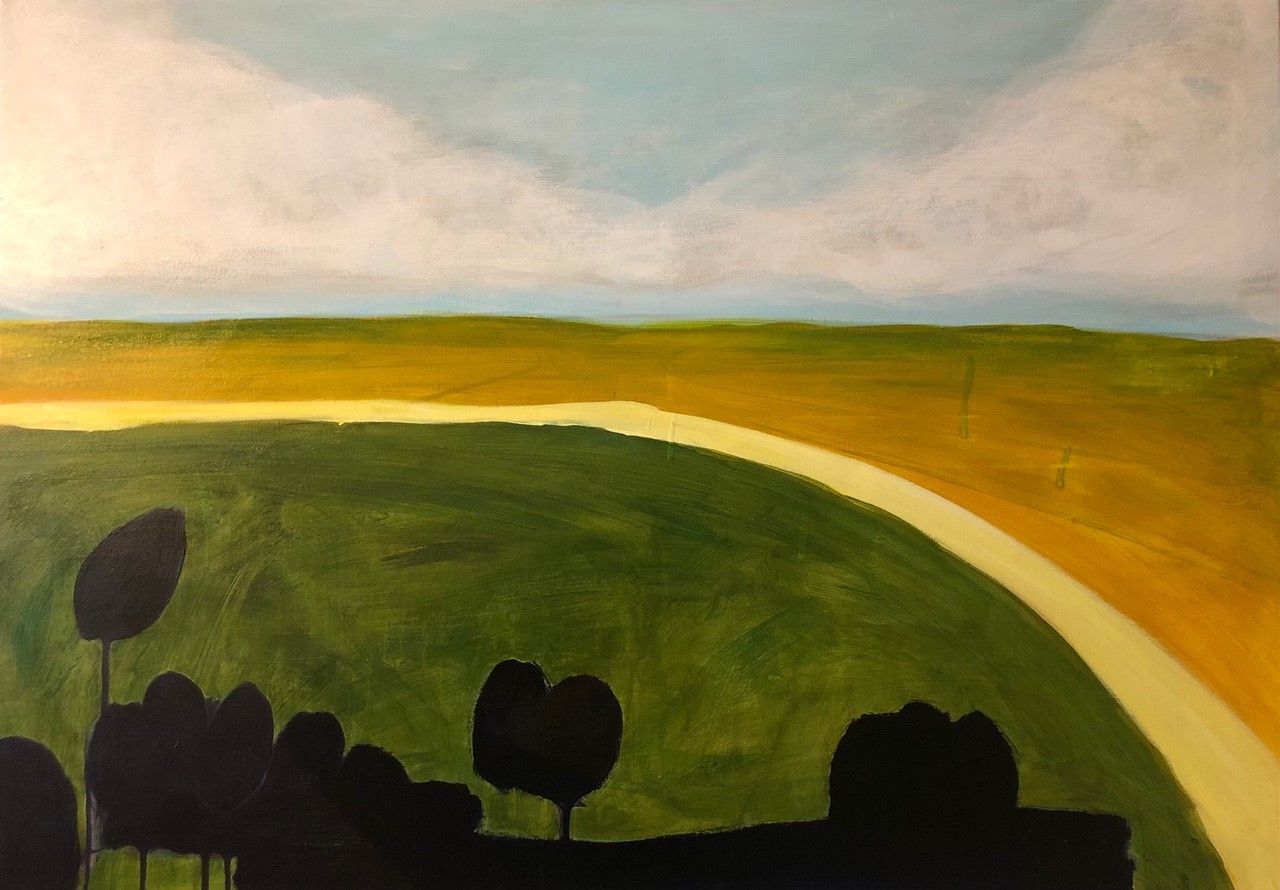 Dawn breaking, a wet and luscious meadows hidden away in a secret spot, safely nestled and surrounded by deep dark forest. Flowers emerge – fluid and embryonic. The fertile earth opens up, Warmer weather and light are on their way.
This painting started with me daubing blue over the canvas, channelling a dawn I saw on Brighton beach, where the sky was ink blue and the orange sun peeped through. Layer upon layer of paint and the golden-green meadow emerged. I grew up on a hill and feel more at home with fields than beaches. The flowers were the final addition, inspired by Joan Mitchell and her abstract expressive paintings. I painted intuitively, layering colour fast and freely, letting the paint lead me.
Here is a video showing how this painting started life, watch it here
Acrylic paint on stretched canvas - 1000mm x 700mm
£550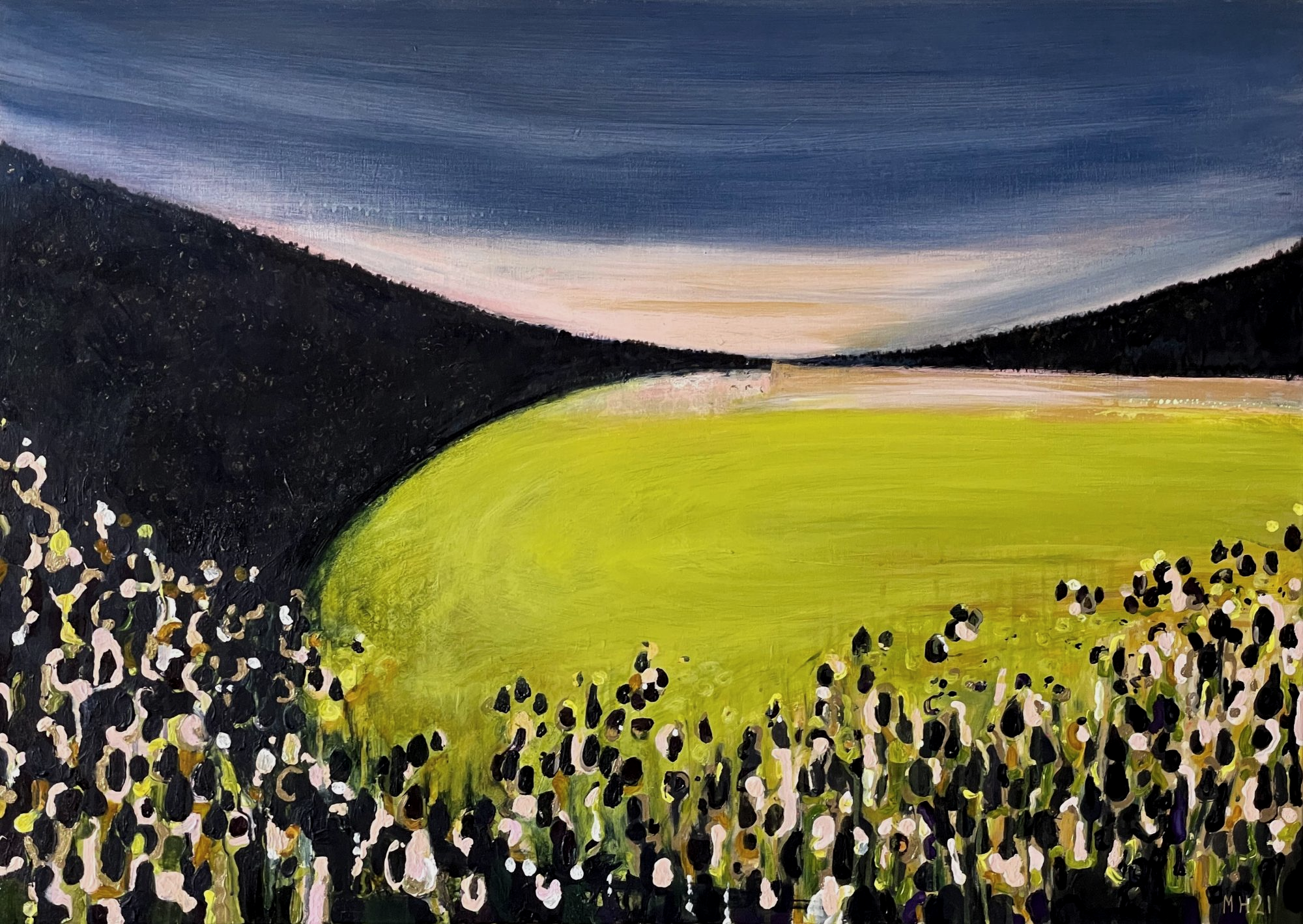 I painted a snowy landscape and it sat with me for months. Then, one day I was inspired to paint a child laying on the snow looking up to the stars. That child is me. I remember lying on snow and feeling the wonder and magic of the universe.
The cats came to befriend and protect me. And the mother figure in the corner is also protective. The pinkness is nurture – feminine, soft, kind and compassionate. Here is a safe and magical place, a place where it's safe to dream of things beyond our day-to-day lives.
Acrylic on stretched canvas - 1000mm x 700mm
£550
I painted this from a childhood memory. I know this place so well, I have been in this random spot countless times. The main road leads from Esh village to Esh Laude where family friends lived and the road to the right leads to Quebec a small village that had the best 1907's playground.
This is also a painting that celebrates July and the lushness of the countryside. My son thought it was France, it reminds him of the holidays we've enjoyed there. Lush, green and full of sunshine.
I have been heavily influenced by David Hockney with this one. I am a huge Hockney fan and adore his joyful paintings of Yorkshire, Garrowby Hill is a favourite.
See how this painting started life, see the video here
Acrylic on stretched canvas - 1000mm x 700mm
£550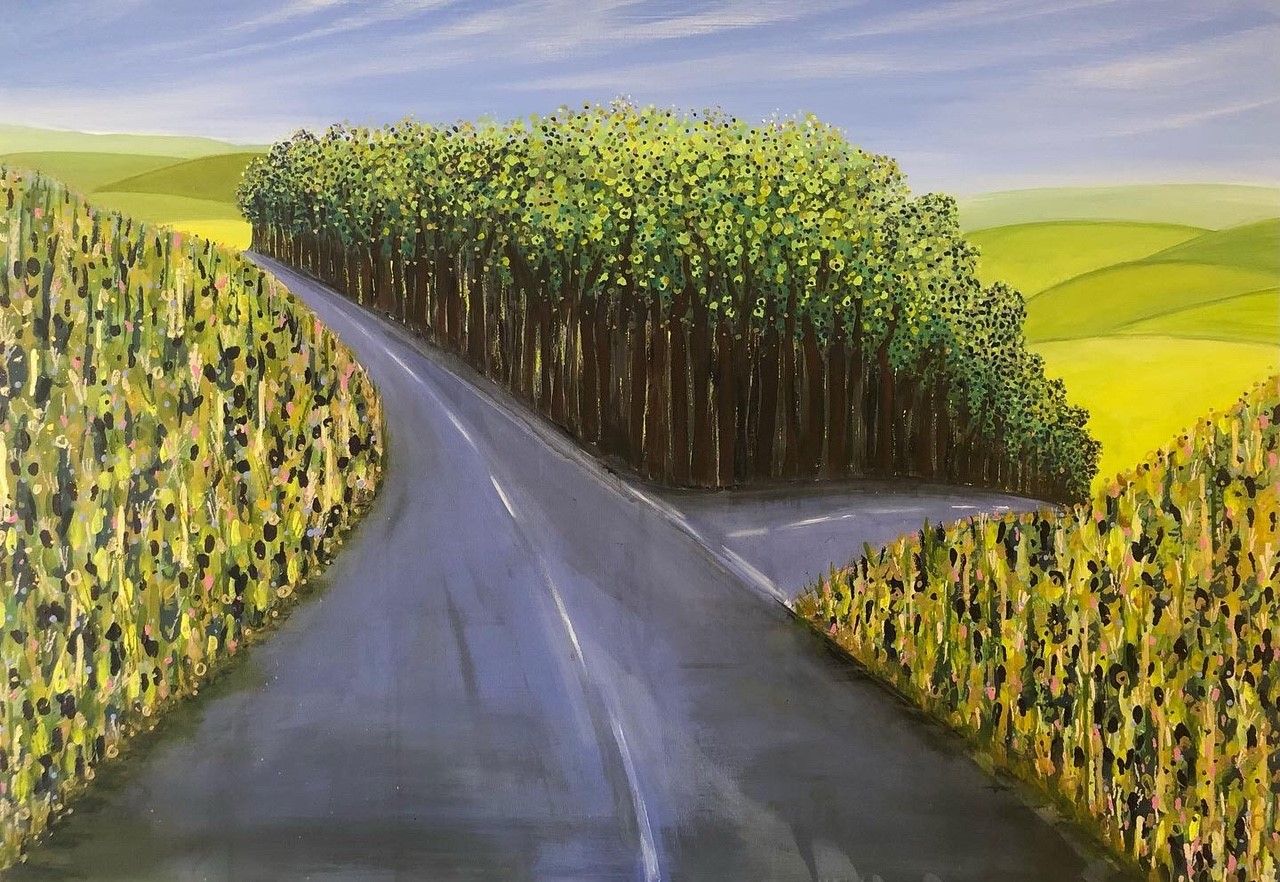 June, the summer equinox, feels like we've reached a peak before we dive into the deepest summer of July. It's still fresh and new, the flowers are in full bloom, the light is amazing. A playful and exciting time.
The composition echos previous work. I wanted a space to run into and feel June. The flowers are deep and contrasting, darker blues, deep violets and lighter pinks and yellows. I focus on the shapes, their relationships and the feeling of abundance. The yellow pathway leads us to the far horizon through the grassy meadow and the distant hills. I love the wispy clouds in the deep blue sky. This is a happy place I want to be.
Here is a video showing how this painting started life, see the sunshine here
Acrylic on stretched canvas - 1000mm x 700mm
£550